Care Portfolio Managers Pvt Ltd
CARE PORTFOLIO
A group of accountants founded Care Portfolio Managers Pvt. Ltd. (Care PMS), a Mumbai-based portfolio manager, with a single business focus: listed equity investments for the long-term wealth development of investors. Care PMS, one of the few players with more than 10 years of expertise, has increased its AUM from a meager 2 cr to 500 cr today through performance and word-of-mouth marketing. By sticking with their confidence in businesses over the long run and generating 8X the wealth of client capital since its foundation, Care PMS made its place and contribution in their client wealth basket with a CAGR of over 22%.In its ten-year journey, Care PMS has found multibaggers by investing in undiscovered treasures and seeing market trends early on. Both discretionary and non-discretionary services are provided by Care PMS.
Investment Team and not a single Fund Manager
The Care PMS investing team is made up of four members, all of whom have a Chartered Accountant degree, at least ten years of expertise in equity investments, and have been a part of the core group from the company's founding. Mr. Jayant Mamania, who has over 25 years of experience in discovering great firms, staying invested for a longer length of time, and managing client funds, is in charge of the team. Arpit Shah, Amit Doshi, and Kush Gangar, who each separately assess each investee company and reach a consensus before investing client funds, provide him with support. The process of company evaluation headed by the investment committee aids in removing biases and creates a strong and well-diversified portfolio.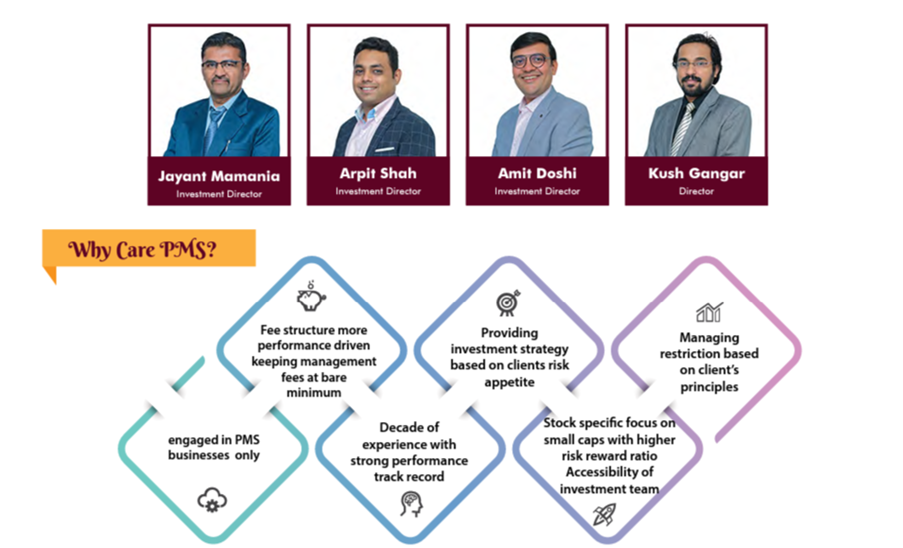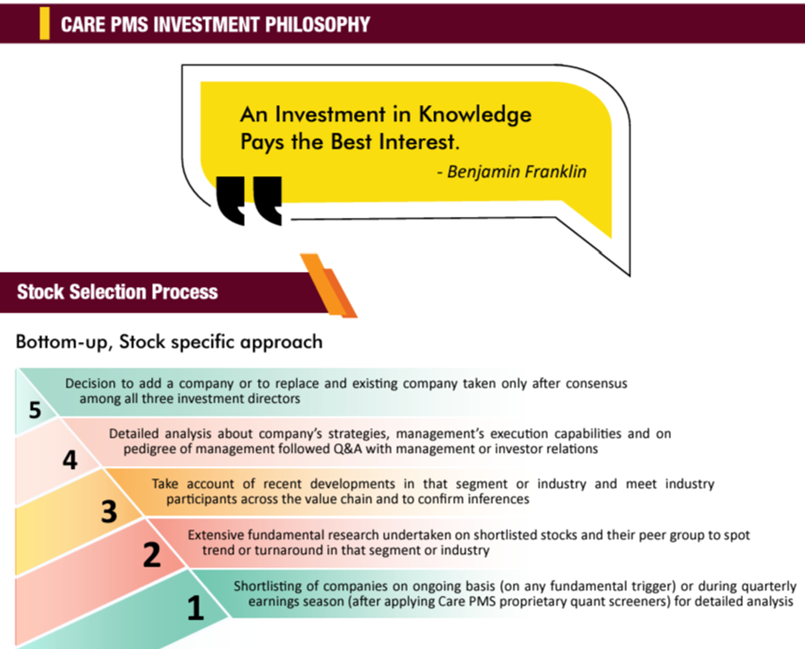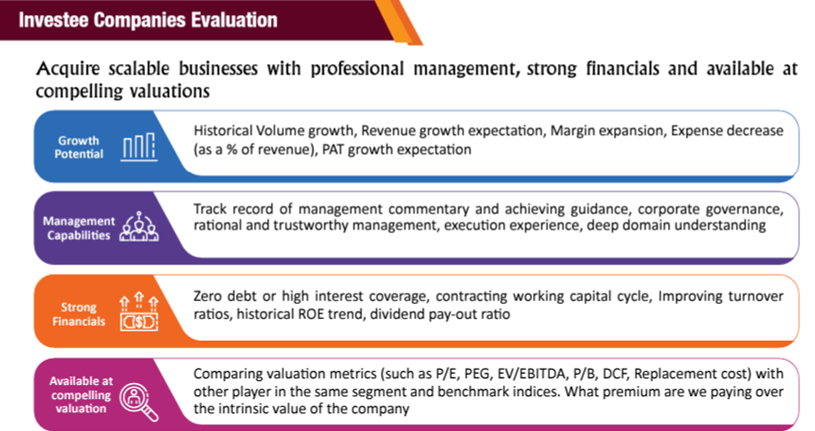 CARE PMS GROWTH PLUS VALUE STRATEGY
Overview
The Care PMS was established with the goal of identifying multibagger stocks. Current promoters were performing well on an individual level in terms of research and temperament. Care PMS intended to use research to close the gap between risk and volatility as retailer investors typically invest in tip-based, low quality companies. Since all promoters are directly involved in research, the pursuit of improved profits never stops, which causes investors to place a greater emphasis on businesses that are doing well and receiving rating upgrades.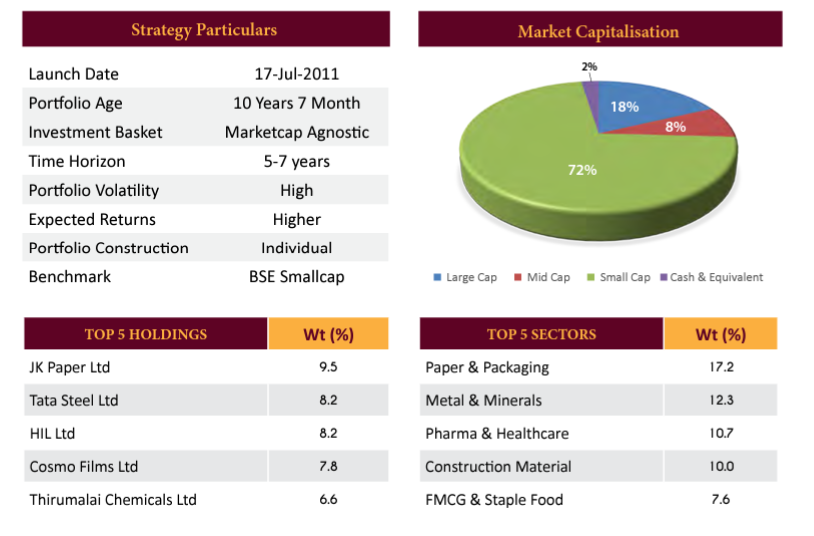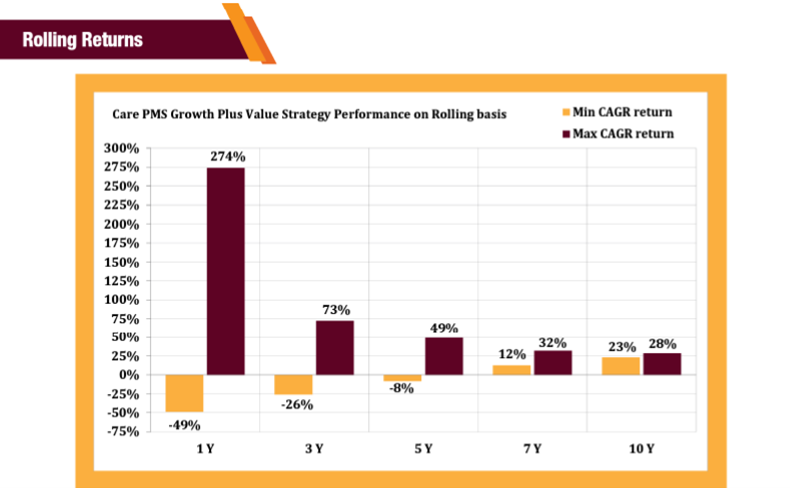 The approach remains volatile in the near term, and individual investor returns might differ greatly depending on when they invested. However, if an investor invests for a longer length of time, their returns eventually match, as seen by the 7 and 10-year data.
CARE PMS LARGE & MIDCAP STRATEGY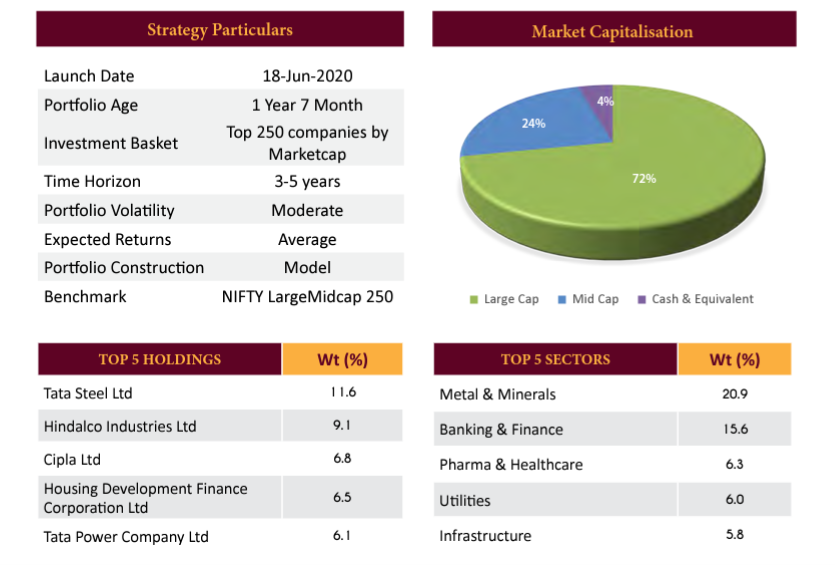 Care PMS Large & Midcap strategy returns will be few bps up or down compared to broader market and suitable for clients who wants invest into known companies.
We conducted an exclusive interview with Mr. Arpit Shah - Investment Director in order to know Care Portfolio Managers in depth and enable the investors to make informed decisions. The questions and answers are reproduced verbatim
Care PMS Growth Plus Value Strategy has delivered superior alpha since inception (Jul 2011). While the benchmark BSE Small Cap has delivered 12.7% since inception, your Growth Plus Value strategy has delivered 22.7% returns (as of Dec 21). What are the factors that drove the performance of your strategies? There are two main factors: first, giving companies in our portfolio more weight when we are more confident in them; and second, keeping the same company for a longer length of time, which has really produced positive compounding outcomes for us. We are aware that there could be a drawback if you lose money on your high conviction bets, where you have a higher weight, but what we have done is what we call "upward averaging," which means that as and when our conviction rises, we increase the weight despite the rise in price, as long as valuation is within our comfort range.
Care PMS Growth Plus Value Strategy has completed 10 years. How are you approaching the post-Covid-19 world of investing? Was there any change in the investment strategy ? I believe that since the implementation of COVID 19 and generally, businesses and stock markets have grown more dynamic and volatile. As a result, we must continue to be proactive, dynamic, and continually monitor business developments because they can be disruptive and necessitate an evaluation sooner than we might have anticipated. In terms of strategic adjustments, we have begun to register profits in our holdings, which is likely something we did not do before to Covid. Additionally, profit booking due to weight rebalancing is done in addition to this. Additionally, there are more businesses currently that are appealing to institutions, i.e., slightly larger in terms of market cap and places where DIIs can have interests. The rationale is that over the past two to three years, money managers (MFs) have grown remarkably, and since they now have more money at their disposal, it makes more sense to invest in areas where they can also make investments and we can expect to earn decent returns with a little less volatility than businesses that are more focused on the retail market.
Care PMS Large & Midcap Strategy has a 10% cash allocation & Growth Plus Value Strategy has a 7% cash allocation. Is this historically a high level for the strategy? What is the reason for this cash % and when will you deploy this amount because there could be a cash drag on the portfolio?
Due to valuation discomfort, we had 15% cash in Q2 FY 22. However, we judged that the froth had been removed by Q3 and began deploying capital. With additional adjustment, all money will shortly be spent.
Tell us about the stock entry and exit discipline for the Growth Plus Value Strategy. Your small cap allocation in the Growth Plus Value Strategy is over 70%. What kind of liquidity parameters do you have for portfolio constituents, given that the small cap part of the market freezes fast at the first sign of trouble? Yes, you are correct, however the strategy calls for clients who are willing to have a 5-year time horizon and refrain from assessing their portfolios on a quarterly basis (but, of course, we will do our share of monitoring). However, as I have stated, I believe that risk is reasonably minimized in the profit booking portion and companies where institutional interest is greater. Choosing small-cap companies that can produce alpha and have better risk-reward ratios is the reason we have more of them. Additionally, if a person finds volatility unsettling, he has the choice to divide his investment between the GV and LM strategies.
What are your best stock picks so far, and how and why were you attracted to them? Also, what went wrong in stocks you loved but the story did not play through?
There are many stocks for both the questions, to save the time sharing two of them:
HIL limited. A company with significant market share in its business got a new management with new vision to diversify business and developing new products to reduce their dependence on single product and that too belonging to a renowned business house in India( CK BIRLA ) available at a reasonable valuation.
Mastek Limited: A financially sound company well run by professional management and allocating capital to a fast growing complementing business was a big growth booster and got the re-rating that we had anticipated.
We generated returns of more than 5-7X in both businesses. Just to be clear, these companies are still in our portfolio. In terms of where we erred, for example, Shiva Texyarn, we aggressively invested in a firm where they developed innovative products and there was expected to be a sizable order, but it never materialized. As a result, we had to deal with slow growth, low liquidity, and a loss. This, in our opinion, is inherent to the game. As long as we can keep the number of these businesses to a minimum, everything should be fine.
In a crowded PMS market like India, what are the USPs of CARE PMS that should be known by investors? What I answered in the first question is
To holding on to conviction, upward averaging and higher weight for conviction bets is probably what sets us apart;
Accessibility of our investment team; and
Fee Structure: We have kept management fees at a bare minimum and the major part of fees is through performance fees, which keeps our interests aligned with investors.
To what category of investor's risk profile Care PMS Growth plus Value Strategy & Care PMS Large and Midcap Strategy is suitable? What is the time horizon for a new investor?
GV Strategy: Someone with 5+ years horizon and ok to witness volatility LM Strategy: Someone whose focus is on wealth protection meaning reasonable return with less volatility.