ICICI Prudential Asset Management Company
ICICI Prudential Asset Management Company
Being the first asset management company in India to obtain a PMS license back in 2000, ICICI Prudential Asset Management Company Ltd (IPAMC) is considered one of the pioneers in the PMS industry. In the portfolio management industry over the past two decades, IPAMC has been a trendsetter by introducing solutions centered around various investing ideas. Through a variety of diverse investment solutions on the PMS platform, IPAMC's reputation and skilled investment management capabilities may assist develop long-term wealth. The research staff at IPAMC is skilled and covers a range of over 350 odd stocks in over 25 different industries. The foundation of the investment process is the varied team, led by portfolio managers with vast expertise and industry repute. The investment team makes sure that portfolios are built with the potential for risk and profit in mind. A large and knowledgeable crew for sales and product support further supports this. As a result, investors may benefit from IPAMC's investment expertise, research assistance, and risk management capabilities. The PMS investment team is headed by Mr. Anand Shah, Head – PMS & AIF Investments. He along with Anand Sharma, Fund Manager – PMS & AIF Equity, manage the equity portfolios under multiple PMS strategies. The investment team is supported by two dealers and a common research team of equity analysts across the business activities engaged by the AMC. Anand Shah has more than two decades of rich fund management experience in the Asset Management industry. Anand joined IPAMC in February 2021. In his previous role, he was the CEO of NJ Asset Management. Prior to this stint, he was Deputy CEO and Head of Investments at BNP Paribas Asset Management India Pvt. Ltd, and was responsible for investments and spearheaded both onshore and offshore mandates and sales. Anand has won multiple laurels and prestigious awards for his fund management capabilities. Anand Sharma joined IPAMC in April 2014. In his current role, Anand is a portfolio manager for multiple strategies of ICICI Prudential Portfolio Management Services. In the past, as a Research Analyst, he had also covered sectors like Pharmaceuticals, Healthcare, Metals, Mining, Sugar and Textiles space. He has around a decade of total work experience, with 6 years as a part of IPAMC's Investment Team. He has completed Masters in Management Studies (MMS) in Finance from K.J. Somaiya Institute of Management Studies & Research and B.E. from Thadomal Shahani Engineering College, Mumbai.
Through their Portfolio Management Services (PMS), IPAMC seeks to give investors a specialized product through focused portfolios while controlling risk in an institutional environment. Deeper and unique research, highly active overweight and underweight positions in the portfolio (in relation to the benchmark), and other factors are used to develop ideas. But managing highly concentrated portfolios requires that investors' long-term risk be minimized. Identifying robust businesses with potential for long-term growth is the goal of the internal BMV (Business, Management and Valuation) framework. Using this methodology, IPAMC seeks to locate well-known companies with competent management at fair prices.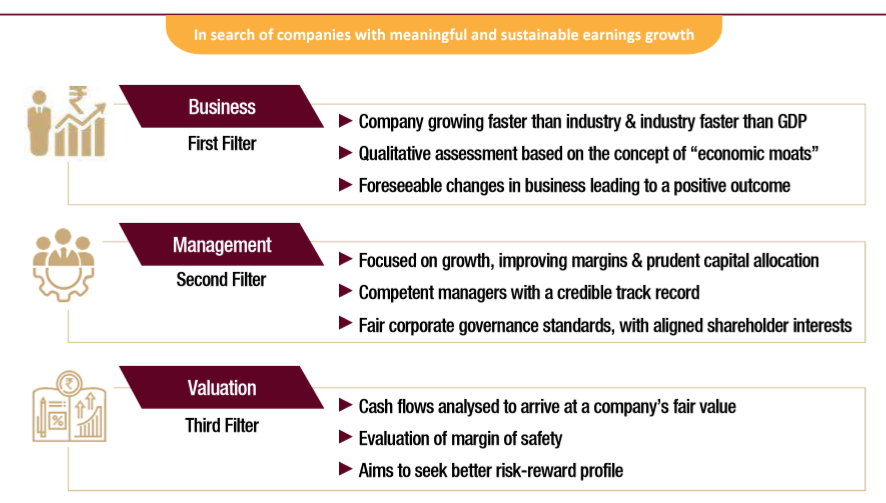 The portfolio manager seeks to concentrate on resilience under the Business filter in terms of industries increasing faster than GDP and businesses growing faster than industry. The emphasis is on companies that have a persistent moat, or a persistent competitive advantage. Therefore, a company may have the capacity to not only survive the bad times but may also endure an invasion of competitors if it has resilient growth and a lasting competitive edge. They may have the capacity to prosper in prosperous times. After identifying potential companies, the portfolio manager seeks to concentrate on the Management of such companies that have a solid track record of corporate governance standards, not only from an Environmental, Social, and Governance (ESG) point of view, but also from the perspective of the company's financial performance society's perspective, such as how they handle minority shareholders, etc. Valuations are the following phase. Effective management and good company practices may not always be inexpensive. The portfolio manager so seeks to acquire good companies with generally competent management at fair prices.
AN ESTABLISHED TRACK RECORD
These days, finding alpha is getting more and more challenging. Here, IPAMC uses its team's in-depth knowledge and practical investment experience to pinpoint prevalent trends and the most promising investment prospects. IPAMC has a history of seeing trends or themes early on and then moving on once the strategy theme has run its course. The topic index of the Strategies has been able to produce a larger return than the market, represented by the Nifty 50 index, as can be seen in the table below.
The Portfolio Manager seeks to locate themes within portfolios that are anticipated to perform well in the long run. The ICICI Prudential PMS Contra Strategy takes a contrarian approach to investing and seeks to buy into businesses that aren't currently performing well but are predicted to in the future. When banks, insurance, and aviation corrected in the past, the Strategy took exposure at various times based on the opportunity the market gave. The Strategy increased its exposure to metals stocks significantly due to the rise in the price of steel globally, the withdrawal of Chinese rebates, and the likelihood that supply would be restricted due to emissions, driving up the price of raw materials.
These concepts and strategies do not come without risk, though. By selecting solid enterprises, the BMV framework strives to lower the long-term risk for investors. This is supported by a strong investment research team, where each idea that is included in the portfolio is carefully investigated, taking into account all the potential outcomes that can have an impact on the business. The investment team works to make sure that the Company selected is a market leader across all of the portfolios. In a sense, this seeks to guarantee that the portfolios are invested in robust companies.
ICICI PRUDENTIAL PMS CONTRA STRATEGY
Investment Objective
The ICICI Prudential PMS Contra Strategy (the "Strategy") invests primarily in equity and equity-related securities through contrarian investing in an effort to achieve capital appreciation.
Basis for Selection of Securities:
The Portfolio Manager uses the "Contra" method of investing, which entails placing opposing bets on equities stocks, such as calls or exposure on underperforming stocks that are currently out of favor but are anticipated to perform well in the long run. The portfolio manager may also choose stocks from businesses in consolidated industries, those with significant entry barriers, or those with unique circumstances.
Benchmark: S&P BSE 200 index
Indicative Investment Horizon: 4 years and above.

ICICI PRUDENTIAL PMS PIPE STRATEGY
Investment Objective
The ICICI Prudential PMS PIPE Strategy (the "Strategy") invests primarily in the Mid and Small Cap segments of the market, having exposure to companies that have some form of economic moat, are going through special circumstances, or are in the middle of an unfavorable business cycle in order to provide long-term capital appreciation and generate returns.
Basis for Selection of Securities
The Portfolio Manager under the Strategy predominantly invests in mid and small capitalisation companies which may be undergoing special situations or are in the midst of unfavourable business cycle.
Benchmark: S&P BSE Small Cap index
Indicative Investment Horizon: 5 years and above.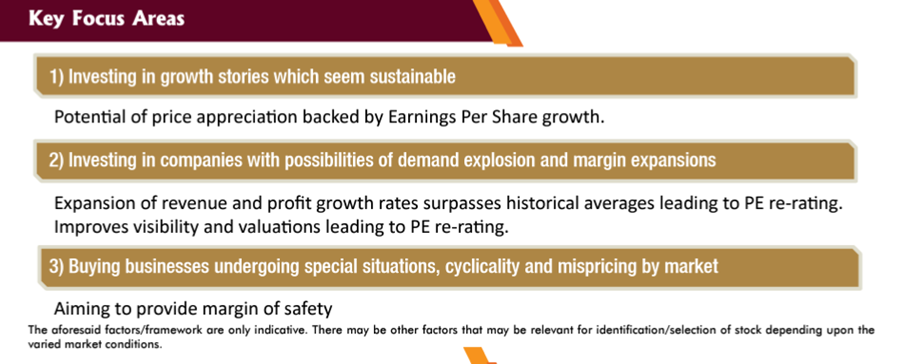 We conducted an exclusive interview with Mr. Anand Shah - Head – PMS & AIF Investments in order to know ICICI Prudential Asset Management Company Ltd. in depth and enable the investors to make informed decisions. The questions and answers are reproduced verbatim
Most of the ICICI Prudential PMS strategies have outperformed their benchmarks considerably across nearly all time frames, What has been done differently, and what is your outlook, particularly at a time of seemingly high valuations?
Given that the underlying companies have performed well, numerous PMS strategies have in fact beaten their benchmarks, especially as the Indian economy continues to gradually recover from the negative impact. Covid-19. We think that over the long term, a company's earnings growth will directly correlate with the growth in its earnings per share (EPS), or more specifically, its cash EPS. Our investment team works to pinpoint the industries and businesses that stand to gain the most from a resurgence in profits growth as the national and global economies bounce back from the pandemic shock.
What is the role of active weight management in ICICI Prudential PMS CONTRA and PIPE Strategies? High conviction concepts necessitate active weight management. Good ideas must therefore have enough weight in the portfolio to support them. As a result, in our portfolios, you might not only see concentration but also stronger sector tilts than the strategy benchmark. The portfolios may also keep flexibility here by not being dogmatic to a certain style, such as value or growth.
The high sector tilts and concentrated portfolios may lead to higher risk for the strategy. How do you intend to manage this? Investors, in my opinion, need to understand the difference between risk and volatility. Risk is a long-term loss of money, whereas volatility is a short-term loss of money. Concentrated portfolios and significant sector tilts may be more volatile, but more risk may not always follow. In fact, they might even indicate lesser risk. The goal of our investment philosophies and investment research team is to control risk, namely the risk of permanent capital loss. This risk can be mitigated by identifying resilient, skillfully run companies with competent management. Stock market volatility is an inherent aspect of the market that cannot be controlled. Market reasons may cause prices of successful enterprises to decline, but they eventually tend to rise again.
The goal, as previously said, is to identify businesses with the potential for better and long-term earnings development. We are concentrating on the discrepancy in long-term profits growth since we think it could lead to a re-rating of a company. Our goal is to identify industries that are expanding faster than the GDP, as well as companies inside those industries that are doing so. Businesses that can do this by utilizing enduring moats, such as brand franchises, cost advantages, distribution, etc.
We want to concentrate on such businesses within our portfolio of firms, many of which have had strong profits growth over the previous year and which continue to trade at margins that are reasonable when compared to the general market.
Is a contra strategy an all-weather investment strategy? Yes, a contrarian approach is one such strategy if you're referring to an investment strategy that seeks to produce alpha in all kinds of economic and market circumstances. The strategy, however, can experience periods of short-term underperformance since it makes investments in businesses and industries where the short-term business environment is unfavorable. A contrarian approach tries to profit from market inefficiencies and seize opportunities caused by mispricing. Here, you might wish to concentrate on businesses or industries where opinions are unfavorable. It attempts to invest in businesses that haven't exactly been the rage but are anticipated to succeed in the long run. You might make investments in industries with significant entry barriers, industries that are consolidating, or businesses with unique circumstances. You can have a market that has been utterly disregarded, for instance. Given the market's past, one might expect it to be undervalued, but if one can find the perfect catalyst for the business or industry, such investments could actually unlock tremendous value.
Therefore, there would always be some opportunity presented by the market through which such a plan may reap long-term rewards. And as part of our portfolio management services, we provide the launched ICICI Prudential PMS Contra Strategy. Due to market polarization, US-China trade concerns, rising petroleum prices, risk aversion in the loan industry, and interruptions caused by Covid, the approach has performed pretty well up to this point.
How does ICICI Prudential PMS Contra Strategy compare with the equity mutual fund schemes playing contrarian-investing theme? There are a few mutual fund programs that fall under the contra fund category, and each has its own distinct style. Contrarian investing involves subjectivity. So, based on their study and analysis, one individual may conclude that there is a contrarian opportunity, but that conclusion may not hold true for another person. While each may have a different approach to finding firms or opportunities for contrarian investing, the PMS platform aims to support our high conviction views through concentrated portfolios and sizing, which is essentially the weight given to equities. As a result, we would likely to have a stronger sector tilt than the benchmark, in this case the S&P BSE 200 index for the Contra Strategy. However, a concentrated portfolio could be seen as high risk. But we think risk may be controlled by using a thorough method to find a company. Identifying well-run companies that are growth-oriented, have a sustained competitive advantage, and may be among the leaders in their particular industry, for example. Therefore, even though a variety of internal and external factors influence volatility, we work to prevent the portfolio from suffering long-term harm. Because of this, we have a sizable staff of analysts who examine each proposal in detail and inquire as to why it belongs in the portfolio. The company cannot be added to the portfolio until that time.
What is the difference between ICICI Prudential PMS PIPE Strategy and ICICI Prudential PMS Contra Strategy given that in the latter the portfolio makes bets on out-of-flavour stocks? Mid-cap and small-cap companies with an economic moat and excellent long-term growth potential are the primary targets of the PIPE Strategy. The majority of the portfolio's holdings are well-established businesses that are market leaders in their respective industrial sectors and have the ability to grow their market share when the economy improves. It intends to make investments in businesses that might be able to weather the crisis. These businesses often have strong balance sheets, little debt, and effective cash management. The Contra Strategy, on the other hand, ignores market capitalization and, as already said, looks for opportunities to make contrarian investments.
What are the new PMS and AIF offerings in ICICI Prudential AMC pipeline? Yes, we do have a few offerings lined up, which we plan to announce soon. We are very excited about launching these products, so please stay tuned in.