Moat Financial Services Pvt Ltd
Moat Financial Services
Moat Financial Services Pvt. Ltd., a boutique portfolio manager with headquarters in Kochi, Kerala, was established in April 2012. Eminent individuals with more than 40 years of combined experience in equity research and investment pushed the company. The Directors had held positions in various high-ranking positions at esteemed organizations. Moat's Portfolio Management Services began operating in 2013 with a SEBI license. The approach has been improved over time to take the current form, Sattvik Portfolio. "Treated like a King" and "treated by a King" are diametrically opposed. Boutique Portfolio Managers are frequently recognized for their specialized knowledge of a certain asset class, which gives them a more nimble advantage when it comes to resource allocation.
Mr. Warren Buffett is credited with popularizing the phrase "economic moat." The moat protects residents inside the stronghold and their wealth from outsiders, just like a moat does in a medieval castle. Economic moats are a crucial qualitative element in a company's long-term performance but are challenging to quantify because they have no evident worth in terms of rupees. Once a corporation has achieved considerable success, the impacts of an economic moat can be more clearly seen in the rearview mirror. With two crucial founders' insights, the name Moat was given to the Moat PMS. First off, the business will continue to be a boutique PMS with the goal of giving each and every Portfolio individualized care.
As a result, the PMS has continued to serve as Boutique Portfolio Manager and has sworn to do so forever. The Management wants investors to have peace of mind knowing that their money is safe, "as if secured inside a medieval castle surrounded by moat." Second, as recommended by Mr. Warren Buffett, the Portfolio itself would be constructed with strong economic moat franchises.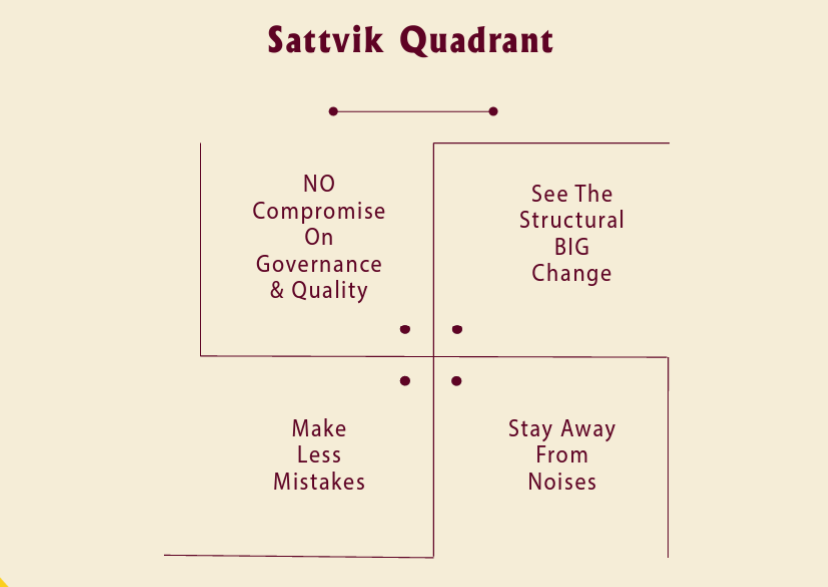 Inspired by Indian culture, values, and wisdom By fusing these Indian Values with Mr. Warren Buffett's value investment ethos, Moat PMS has created their Philosophy, Principle, Strategy, and the Objective of their Portfolio Strategy. With a reputable track record, Orbis Financial Corporation serves as the custodian and Aditya Birla Money provides brokerage services for Moat, a well-known portfolio manager. Since its start, Moat has offered smooth services to all of its investors through its devoted support team and compliance cell. Pictured is Moat's Wealth Creation Quadrant. Moat qualities rather than just the methods used by many of the thematic peers to generate Character in the Portfolio. The wisdom of Moat Portfolio Managers recognizes the value of focusing on character; as a result, they devote 99% of their attention to character and 1% to stock selection. "Stay Away From Noises" and "Make Less Mistakes" are two of the Mantra's sub-tenets that Moat-PMS invented and adheres to religiously in order to concentrate on Character. Moat's depiction of the "Sattvik-Quadrant" in pictures helps to better explain how wealth is created. Important tenets considered by Moat Portfolio Manager to build the "Sattvik" Portfolio Quadrants from the Culture, Values and Wisdom of India & the Value Investment Philosophy of Mr. Warren Buffett: "As gold is tested in four ways by rubbing, cutting, heating and beating, in the same way a person (A Company is an artificial Person represented by its board) is tested by his renunciation, conduct, qualities and actions." "Investment success will not be produced by arcane formulae, computer programs or signals flashed by the price behavior of stocks and markets. Rather an investor will succeed by coupling good business judgment with an ability to insulate his thoughts and behavior from the super contagious emotions that swirl about the market place." "There are two nectarine fruits hanging from the tree of this world; one is the hearing of sweet words and the other, the society of saintly men." "You can't make a good deal with a bad person. When a management with a reputation for brilliance tackles a business with a reputation for bad economics, it is the reputation of the business that remains intact." "One should think of one's safety first and hence on should maintain a distance of five cubits from a bullock cart, ten cubits from horse and 100 cubits from an elephant, but to get rid of a wicked person one should even leave that place or country." "Risk comes from not knowing what you are doing. You don't need to be rocket scientist. Investing is not a game where a guy with 160 IQ beat a guy with a 130 IQ. Rationality is essential. You only find out who is swimming naked when the tide goes out.
Mr. Suraj Nair has been managing the Portfolio since inception. He is a Graduate Engineer from Trivandrum College of Engineering. Mr. Suraj Nair is Co-Founder, Executive Director & Chief Investment Officer of Moat PMS. He has 20+ years of experience in equity investments and research. Being a full time private equity investor himself, he has been living his passion of creating true culture and spirit of equity investment. Mr. Suraj Nair is a well groomed professional who dedicates majority of his time on interacting with great Managements and Businesses. Few of his successful long-term equity investment ideas include Eicher Motors, Wabco, Page Industries, Pidilite etc., Sattvik Portfolio Strategy: Moat-Sattvik Portfolio Strategy aims to invest in equities of quality Indian Businesses that are excellent capital allocators with high return on capital and little debt, run by up-right Management and operates in a sector where the opportunity for growth is high. Portfolio aims to generate 'reputational wealth' over a period of 3-4 years, by investing in companies that could be potential wealth creators in India's journey towards $5 Trillion economy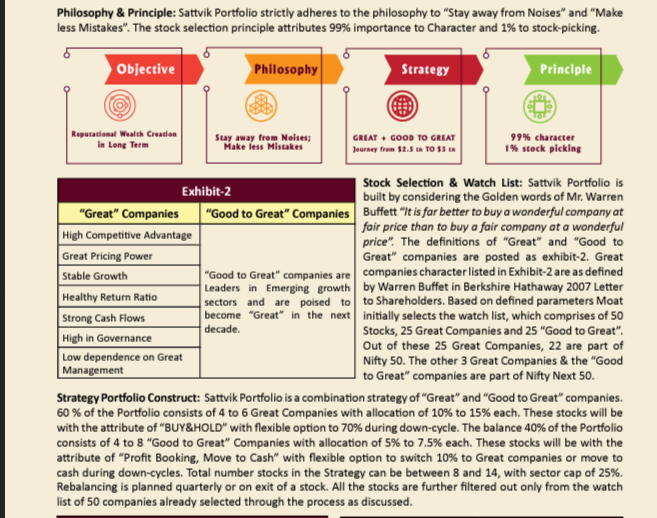 Portfolio Current Holdings: Exhibits 3 and 3-A list the top five stocks and top five industry sectors for the Sattvik Portfolio. Because the portfolio is based on an innovative topic, it is market-cap and sector-neutral. Exhibit 3-B shows the market capitalization allocation as of April 30, 2020. r Sall h 7. Market Cap: Sattvik Strategy Exhibit 3: Sattvik Portfolio Performance Analysis Exhibit-4 contains a summary of the strategy's results over various trailing time periods. There haven't been many recent modifications to the portfolio. The stocks that make up the current portfolio are all solid fundamentally. In their exclusive interview with the portfolio manager, PMS Bazaar asked a question to learn more about the adjustments made to the portfolio and the portfolio manager's convictions.
Salient Features of Sattvik Portfolio Strategy:
Sattvik Portfolio is offered by Moat Financial Services, an experienced boutique PMS enterprise serving the niche investors, supported by experienced team of professionals.
Sattvik Portfolio is an innovative philosophy of blending values of India with value investment philosophy of Mr. Warren Buffett.
Watch list is created using the defined parameters of Mr. Warren Buffett. Further filtered stocks selected from the watch list are used to build the Portfolio.
99% importance is attributed to the character and only 1% is attributed to stock picking, ensuring growth potential in the long term.
The Portfolio is concentrated with well selected fundamentally strong franchises having the potential to outperform in a period of 3 to 4 years.
The current construction of the Sattvik Portfolio is conducive to outperform in the medium to long term, the convictions of the Portfolio Manager are more elaborated in the exclusive interview section
An established and dedicated custodian service of Orbis is outsourced to ensure safety of the investors.
The Portfolio is a low churn and concentrated portfolio thus exhibiting the conviction of the Management in their philosophy and stock selection.
We have conducted an exclusive interview with Mr. Suraj Nair, Founder & CIO of Moat Financials in order to know the Sattvik Portfolio in depth and enable our investors to make informed decisions. The questions and answers are reproduced verbatim:
MOAT-Sattvik Portfolio combines ancient Indian values with the philosophy of the investment legend Mr. Warren Buffet. What triggered the ideation for such an innovative investment philosophy? How effective it is for the current times?
The key to successful equity investing is developing mental discipline to act against your natural biases and emotions. It all comes down to building a character that can keep one away from the commotion around the equity market. Simply choosing stocks based on pre-established quality criteria might not produce the intended results because it does not equip you with a strong enough attitude to regulate your emotions. Our research into the origins of our ancient civilization and its principles, which may someday aid us in developing wisdom and a culture of pure and ethical wealth, is part of our effort to bring sanity to the world of equities investing. Sattvik Portfolio is a superlative perspective that helps you with a strong discipline to administer a portfolio of equities of quality businesses that over a period of time would create ethical wealth by means of dividend and capital appreciation. Sattvik portfolio derives inspiration from the culture, values and wisdom of ancient India blended with the value investment philosophy of Warren Buffett. Our approach has been to develop a CHARACTER and not just a PROCESS and apply it to the dynamic world of equity investing.
While majority of the Portfolio Managers are overweight on Financials and Pharmaceuticals, your top sector allocations appear differentiated. Can you please share your convictions?
There's a general notion that post pandemic period it would be pharma, essential goods, FMCG and beaten down quality financials that would be of flavour. To an extent its quite right as well. It is no brainer. Any talks without these names would not find resonance with investors. Now it has become more or less fashionable to mention these names. However, we would like to think a bit differently here. We believe that any incremental sales of the essential goods wouldn't make substantial impact on the bottom line of FMCG companies. People, in anticipation of uncertainty and extensions of lockdowns, have already stocked up goods in advance and these are already discounted in the price of such stocks. We also do not have any reason to believe that more pharmaceuticals products would be consumed by people from here on just because there is a pandemic out there. The sector may get the benefit of money moving out of other sectors.
We do not foresee a massive shift of significant workforce to the idea of "work from home", except in a few sectors. In-person communication would still remain a far more superior idea and that would drive demand for world-class commercial real estate. We feel that once we tide over this challenging situation the demand for sin-goods, luxurious goods as discretionary spends is going to rise. High income people would continue to spend more on these. And hence for this reason we have our allocation mainly in gold financing, liquor companies and electronic contract manufacturers that are into manufacturing of televisions sets, mobiles, LED bulbs etc. We do also have allocation in retailing companies like Grocery retailing, gold retailing, apparel retailing and footwear retailing. Then, FMCG feeder companies that are into making of raw-materials and chemicals for detergents and soaps. Then, Supply chain management companies like packaging companies, logistics companies so on and so forth.
Your investment principle believes in 99% Character – Can your share your ideas on how you formulate stock selection based on character?
A person who has considerable experience and wisdom in equity markets would have the ability to easily identify the character of that particular investor or the fund manager looking at the stocks that he holds in his portfolio. So that way Equity investment is an art and it basically exposes the character or signature of that particular investor or the fund manager. There's little doubt that equity investments should always be made in high quality businesses with superior fundamentals "This is a given" and there is no second thought about it. Ideally, everyone starts their initial investments in high quality companies. But they tend to sway away from their original investment thesis as they move forward. They get swayed by the noises surrounding them. And one may even make the mistake of exiting from his high conviction idea at an early stage or make the mistake of being under-allocated in stock that may hold lots of promises. This would ultimately influence you psychologically to move out of your circle of competence and make investments in sectors or companies that may not be in-line with your original thinking. Chances are that you may lose your focus. And at times, you become a contrarian just for the sake of being contrarian or act in line with general human biases. This is exactly why different people make different returns in the same set of stocks. So, we have understood over a period of time that it's not stock selection that is the issue here. It's the issue with mindset and character. However, idolising the investment lifestyle of Sattvik, helps you to stick to your circle of competence, reminds you to make less mistakes and gives you the strength to avoid those disturbing or confusing noises that surrounds you. So, when we say Sattvik, it's not ethical or socially responsible investing like Shariah or ESG, it is basically investing onto any great businesses backed by a strong superior mindset to behave disciplined throughout the entire investment period. After-all, creating wealth in equities is basically how you position yourself against an eccentric person called Mr. Market. Market is a volatile system but we need to keep our focus and avoid dancing along with the markets.
What is the time horizon you advise to the investors of Sattvik Portfolio?
Be it Sattvik or otherwise, investing in equities should always be treated with the same way one treats his real estate investment portfolio. The more you spend time, the more wealth would be created. To give you a simple illustration, to make 100 cr from 1 cr capital, you don't need to find a stock that multiplies your money 100 times; but it's just good enough to find 7 successive trades that doubles your money over a period of time. So, it's not necessary that we need to find a multi-bagger every time, thereby exposing ourselves to more risk and un-certainty. We can achieve this with a blend of existing known quality names and a few newer ones with right sizing and allocation. Having said that, there are only a few good reasons for an investor to sell his equity investments. First, when you need money. Second, when the management of the businesses that you had invested do not execute the way you expected. Three, when you have found a better investment opportunity. Otherwise the time to sell is never.
Are we in a bull market or bear market according to you?
It's true that we are not sure about many of the things that are happening around at this point in time. However, we know, just one thing. We only know ourselves. And we have the capability to adjust ourselves to the given situations. Zoom -in and see yourself. It's the time for self-introspection, re-booting, re-inventing, un-learning and re-learning. Extraordinary situations call for extraordinary measures. We are at the cusp of a very large opportunity of a lifetime. We are in the start of a Bull market in Indian equities. To know more on our convictions, read more at http://moatindia.in/zoom/
If we have to seek just one unique feature of Sattvik Portfolio, what would you highlight?
We must tell you with great pride that there's nothing unique in what we do. It's just that we practice equity investing in its right spirit and culture. We are very small insignificant people to make big statements here. The current scenario of the market has brought all PMS companies to the same level in terms of performance and not by assets under management. It's true that there are few exceptions. But its more or less it's an even playing field. It's a new start for everyone. There's a general saying that the stars of yesteryears may not be the leaders of tomorrow. The same is true for fund managers and PMS companies, not only stocks. The beauty with MOAT is that we are fairly small. And we don't intent to increase our AUM once we reach certain size. At some point in time we should stop taking capital from new clients. Because we feel that once we grow in size, the size itself becomes our enemy. Providing personal attention to each and every portfolio would become next to impossible. That itself would destroy the spirit of portfolio management. So, we feel it's the boutique format of MOAT that makes us a better bet. And we strongly believe that the Indian economy and Capital Market is going through a period of major reset. System is getting cleansed. Market is getting more concentrated in the hands of one or two sector leaders. There is transfer of wealth from dishonest to the honest. This changing dynamic necessitates changed mindset. You need to look at an old idea through new eyes. This is where our investment lifestyle called Sattvik could help. A new beginning, a new perspective. Know more : https://bit.ly/2xqVOnF