PMS Performance – January 2022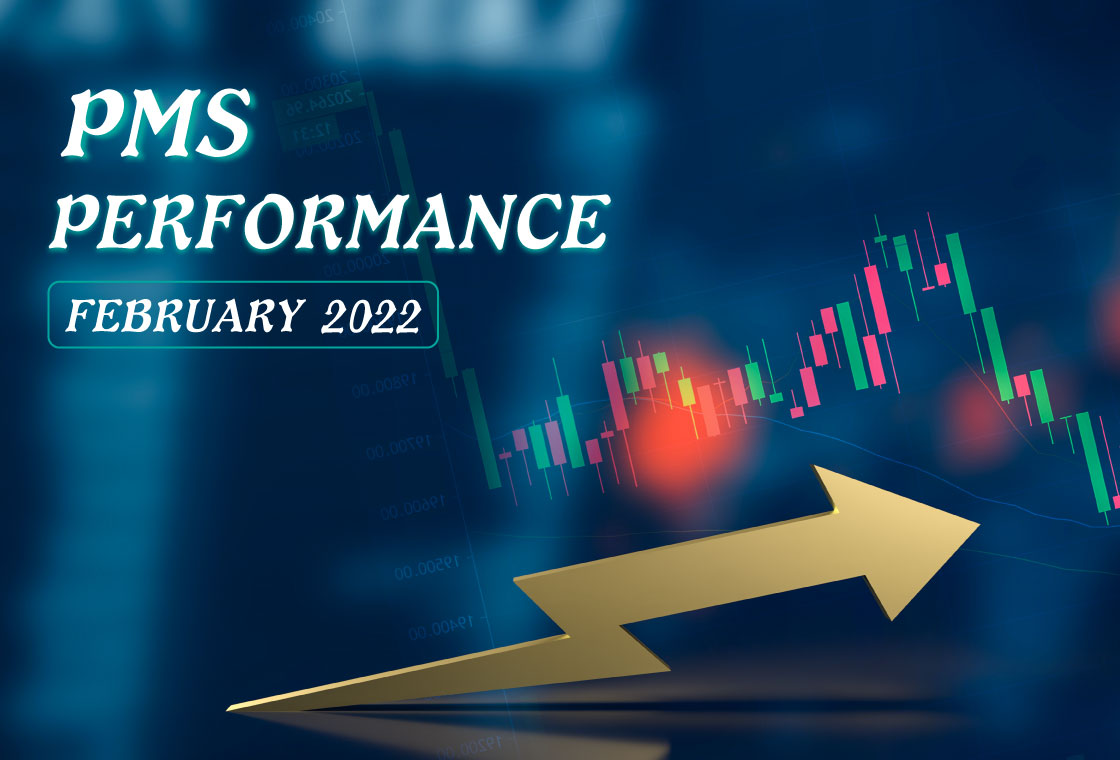 Portfolio management services, or PMS, cater to high-net-worth customers and demand a higher professional fee than traditional mutual funds. It varies, however, from plan to scheme. A PMS account can be opened and held with a minimum balance of Rs 50 lakhs, according to SEBI regulations.
In January, the Nifty50 declined 0.09%, while the S&P BSE Sensex fell 0.41 percent, whereas the mid- and small-cap indexes underperformed. In January, when both the Sensex and the Nifty50 were under selling pressure due to negative global signals, one out of every three Portfolio Management Schemes (PMS) managed to outperform benchmark indices.
Even though small- and mid-cap stocks underperformed benchmark indices in January, fund managers running schemes centred around small and mid-cap stocks delivered positive results.
Markets in India closed with a negative bias in January ahead of the Union Budget 2022. The decline can be ascribed to foreign investor selling, uncertainty over the outcome of the US Fed policy meeting, a spike in crude oil prices, and future rate discussion.
In the same time period, the S&P BSE Mid-cap index plummeted 1.4%, while the S&P BSE Small-Cap index fell 0.78%. Out of the 271 schemes that have reported their monthly numbers for January 2022, 33% (about 89 schemes) have given positive returns.
Top PMS Performance for January 2022
The top performer for the month is Value Quest Investment Advisors Pvt. Ltd.'s Platinum strategy, a multicap scheme that generated a return of 9.73%. The portfolio strategy comprises a core portfolio complemented by young, new to the market, turnaround stocks, and & special situation opportunities. The investment will be made over a period of 1-3 years.
Turnaround stocks are that have gone through a phase of weak financial performance and share prices have fallen. The idea is to find companies that are likely to identify issues that lead to weak performance and adapt their business strategy to become profitable again
The number two portfolio was Spark Fund Managers' Core and Satellite strategy, another multicap scheme that generated a return of 6.44%. Core-satellite investing is a method of portfolio construction designed to minimise costs, tax liability, and volatility while providing an opportunity to outperform the broad stock market as a whole.
The portfolio at the number three position is Green Portfolio's MNC Advantage strategy, a thematic scheme, that generated a return of 6.31%. The MNC Advantage strategy invests in rapidly developing multinational companies at a reasonable price. Companies that are chosen usually have a competitive advantage in terms of having a global presence and access to global markets.
The other top performers are Green Portfolio's Super 30 (Thematic) with a gain of 5.86%, Spark Fund Managers' Flexicap (Multicap) with a gain of 5.82%, ICICI Pru's Value strategy (Multicap) with a gain of 5.79%, Equitree Capital Advisors' emerging Opportunities (Small Cap) with a gain of 5.71%, Renaissance's Opportunities portfolio (Large Cap) with a gain of 5.54%, and Renaissance's Mid Cap Portfolio (Mid Cap) with a gain of 5.43%.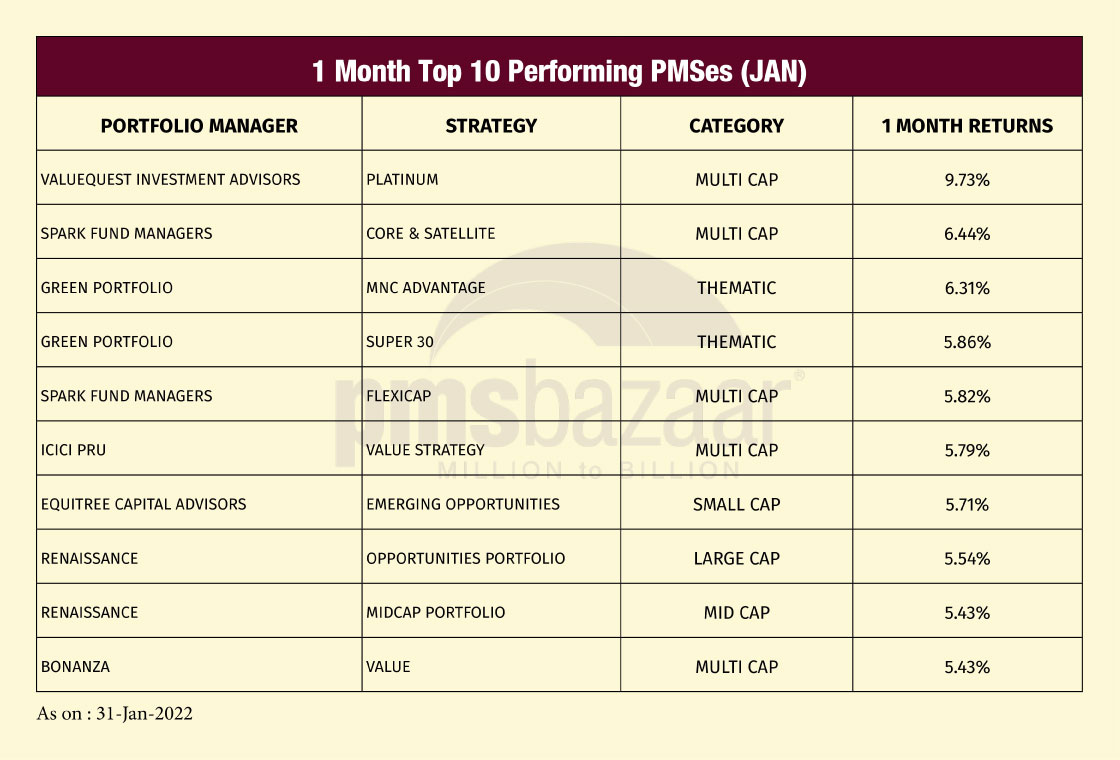 List of the top PMS Performers Category-Wise- Large Cap, Mid Cap, Small Cap, and Multi-Cap for January 2022
There are 182 PMSs out of 271 schemes that gave negative returns in January compared to the 0.09% fall seen in the Nifty50.
Large Cap
The average category return of large-cap PMS for January 2022 was -0.85% with about 13 out of 22 strategies underperforming this number against NIFTY50's 0.09% loss. The top performers. The top performers from large-cap schemes were Renaissance (5.54%), ICICI Pru (3.21%), Agreya Capital Advisors (2.17%), Pelican (1.27%), and Reliance Wealth Management (1.27%).
Large and Mid-Cap
The average category return was -1.45% for January 2022 with most strategies generating returns above this number. The better performers are LIC MF (1.08%), Skys and Ray Equities (-0.18%), Care Portfolio Managers (-1.10%), and Emkay Investment Managers (-1.32%).
Mid Cap
The 23 mid-cap PMS strategies recorded an average return of -1.10% in the month of January 2022 but below Nifty Mid Cap 100 Index of -.0.55%. More than 50% of the schemes showed negative returns. However, some of the better performers are Renaissance (5.43%), Master Portfolio Services (2.11%), Invesco (1.60%), PGIM India (1.11%), and NAFA Asset Managers (1.05%).
Small and Mid-Cap
This category comprises 21 PMS strategies that generated an average return of -0.09% in the month of January 2022. The top performers in this category are Roha Asset Managers (4.46%), Counter-Cyclical Investment Private Limited (4.43%), Valentis Advisors (3.05%), Care Portfolio Managers (2.90%), and Geojit Financial Services (2.53%).
Small-Cap
The small-cap strategies tracked by PMS Bazaar reported an average return of 0.36% in January 2022. However, this average return fares much better than the BSE Small-Cap that fell -0.78% the same month. Some of the top performers are Equitree Capital Advisors (5.71%), Aequitas Investment Consultancy (4.35%), ICIC Pru (4.10%), Fort Capital Investment Advisory Limited (2.65%), and Accura Cap (1.90%).
Multi-Cap
This is the largest category of PMS comprising 157 schemes that generated an average return of -1.32% for the month of January 2022 which is better than the returns of the BSE 500 Index of -0.40%. The top three performers in this scheme are Value Quest Investment Advisor Private Limited (9.73%), Spark Fund Managers (6.44%), and ICICI Pru (5.79%). However, the three poor performers were Alder Capital (-11.12%), Stallion Asset (-9.25%), and Shepherd's Hill (-7.94%).
Thematic and Sector
The Thematic and Sector comprises 12 schemes that generated an average return of 1.00% for the month of January 2022. Green Portfolio's MNC Advantage (6.31%) Super 30 (5.86%) and Trivantage Capital Resurgent (4.52%) performed well. This was followed by Right Horizon's Alphabots India Prime (4.08%) Green Portfolio Dividend Yield (4.08%) and Marcellus' Kings of Capital (3.27%). However, the healthcare portfolio had shown a poor performance with a negative return of -6.41%