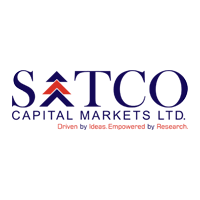 SATCO CAPITAL MARKETS LTD
Satco Capital Market Ltd is a SEBI registered capital and commodity market intermediary. They are also Depository Participant with CDSL and have a Portfolio Management Service Registration. Their vision is to be the most preferred service provider for investor in the capital market and financial products space, driving wealth creation and growth along with personalized attention. Their mission is to provide the best wealth creation opportunities for the clients.
Contacts
Contact Person
Mr. Deepak Jaggi
9820300745
Corporate Address
101- A Wing, Devrup CHS Ltd. 36, Turner Road, TPS -3, Opp. Tavaa Restaurant, Bandra (W), Mumbai – 400 050
Web and Email
Copyrights © 2022 All Rights Reserved by Finalyca.
AMC's